Georgian FOOD is quite appropriately an expression of the culture.
Eating, toasts and overall hospitality bind families and friends and snare visitors into
long, table-bound interludes. Georgian food and hospitality surrounds you… and can
sometimes suffocate you under its weight

If you do visit Georgia and can't find a particular dish, just ask local people where you
can find it and they will be more than happy to help you discover their cuisine.
Georgians are proud of their cuisine and culture, and happy to share it with curious
visitors. And, you'll likely have a great story to tell about that experience and meal.
Traditional Georgian Food
Khinkali (Georgian Dumplings)
Beautifully twisted knobs of dough, khinkali are typically stuffed with meat and spices,
then served boiled or steamed. The trick with khinkali is to eat them without making a
mess or spilling the hot broth inside all over yourself.
How to eat khinkali: sprinkle with black pepper, grab the dumpling by the handle and
turn upside down. Take small bites from the side, slurping some broth as you go
Traditional khinkali typically features meat, vegetarian khinkali featuring fillings of
mushroom and cheese/curd are often available if you ask for them.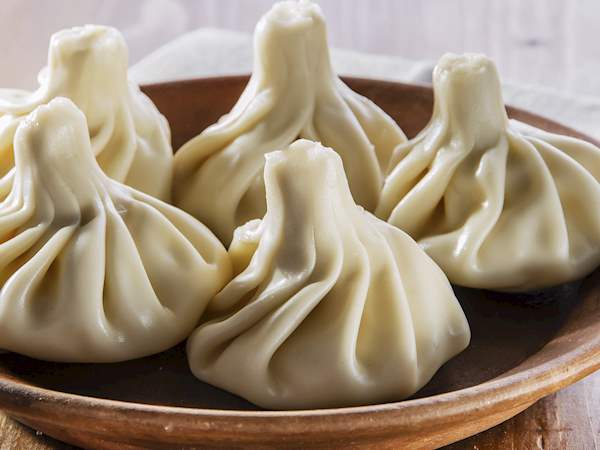 Badrijani Nigvzit
Roasted eggplant (badrijan) strips, served flat and topped with walnut paste with
Georgian spices.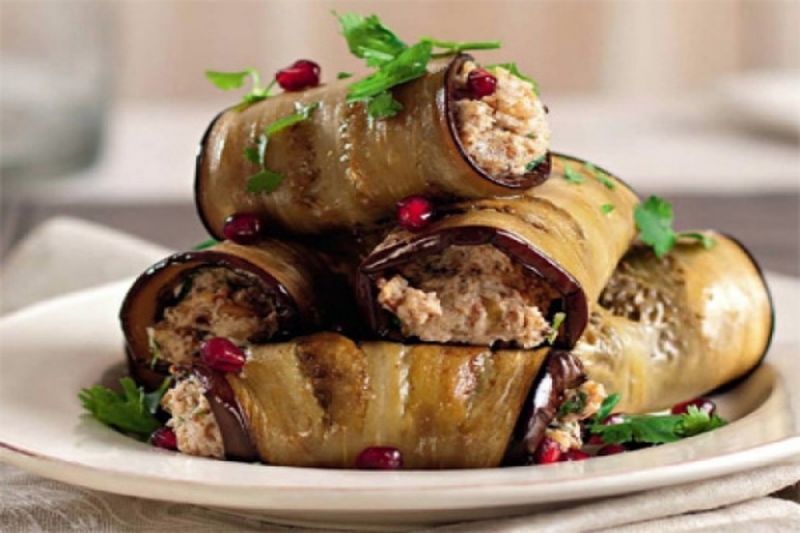 Lobio (Bean Soup)
A cross between bean soup and refried beans. The consistency and taste of lobio
varies widely. That it often bears a resemblance to Mexican bean dishes is almost
always satisfying. For full effect, the traditional way to eat lobio is with a round
of mchadi, Georgian corn bread. We often searched for lobio after we'd been
exhausted by meat and bread, and found it quite often, including in some unusual
locations.
Qababi (Kebabs)
Grilled minced meat sprinkled with sumac and onion slices, wrapped in a thin lavash-
like bread. In some small Georgian towns, this was the only dish available. We were
surprisingly never disappointed by it.
Chakapuli
Traditional herb lamb stew from Kakheti, chakapuli is typically eaten around the
holidays (e.g., Easter). Chakapuli typically features a meat like veal or lamb, and is
further flavored by onions, tkemali (sour plums), white wine, garlic and mixed herbs.
Mtsvadi (Shashlik, meat skewers)
Fire-roasted chunks of pork, salted. For the perfect mtsvadi, cut some fresh onions and
place them in a metal bowl, then stir everything over a fire. If you are lucky, you will have
mtsvadi in an impromptu barbecue in the mountains. It is among some of the best
barbecued meat in the world. Be careful, chunks of the prized chalahaji (or back meat)
are usually in limited amounts and meant to be shared with the group.
Satsivi
Poultry (chicken or turkey) served with a thinned paste of walnut, garlic and herbs.
Considered a winter dish ("sivi" implies cold in Georgian), satsivi is usually eaten
around the Christmas holiday and the New Year, particularly in the region of Adjari.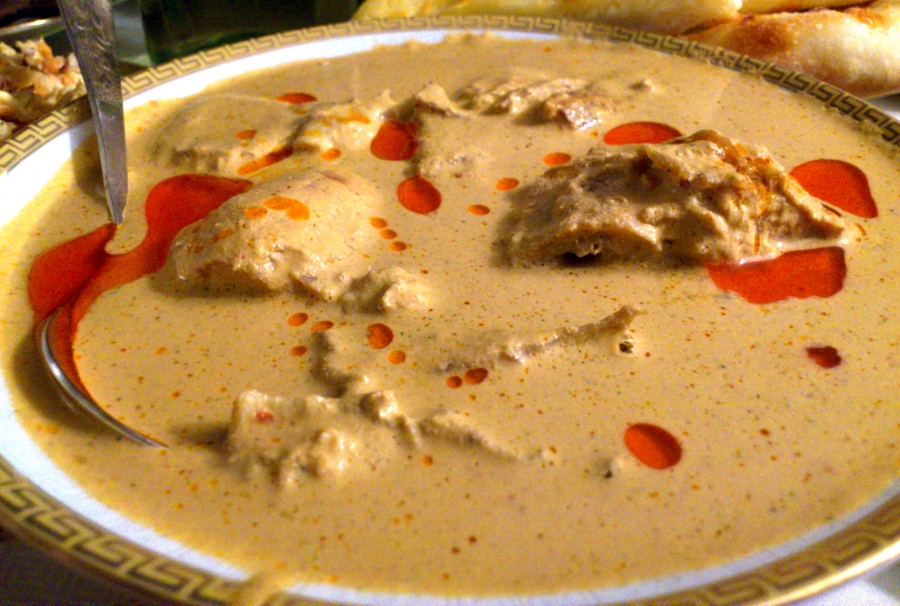 Georgian Breads
Khachapuri (Georgian Cheese Bread)
No visit to Georgia would be complete (or possible) without a few tastes of khachapuri,
the warm, gooey cheese-stuffed bread that oozes and drips with heart-stopping
goodness. In addition to the standard round pie stuffed with cheese, other variations
include egg-topped (Adjarian khachapuri), the four-fold filo dough pocket, and tarragon,
mushroom and rice-stuffed pies.
Puri / Tonis Puri (Georgian Flatbread)
Tonis puri is the Georgian bread staple. Baked in a ceramic circular hearth oven with
the dough stuck to the side (like Indian naan), puri comes out moist, with a tinge of
sourdough flavor, and perfectly tainted with black bits from inside the oven. You'll notice
that the edges of tonis puri are often browned and taste faintly of matzo. The most
memorable version of tonis puri we tasted was in the town of Borjomi, next to the bus
station. This might not come as a surprise, as Borjomi is famous for its water, a key
ingredient in Georgian bread.
Lobiani (Bean-stuffed bread)
Lobiani is similar to khachapuri-, except that it is stuffed with bean paste rather than
cheese. Lobiani is typically quite moist and is just slightly healthier than its original
cheese cousin, khachapuri.
Kubdari
Kubdari, a bread specialty originally from the Svaneti region, is a khachapuri-like dough
stuffed with small chunks of meat, spices and onions. The best versions of kubdari that
one can try are in restaurant stops along the road between Zugdidi and Mestia, as well
as in homestays along the route from Mestia to Ushguli.
Chvishtari
Cheese corn bread (a Svanetian version of mchadi with cheese). This will stick to your
bones for days. It makes for an excellent trekking food.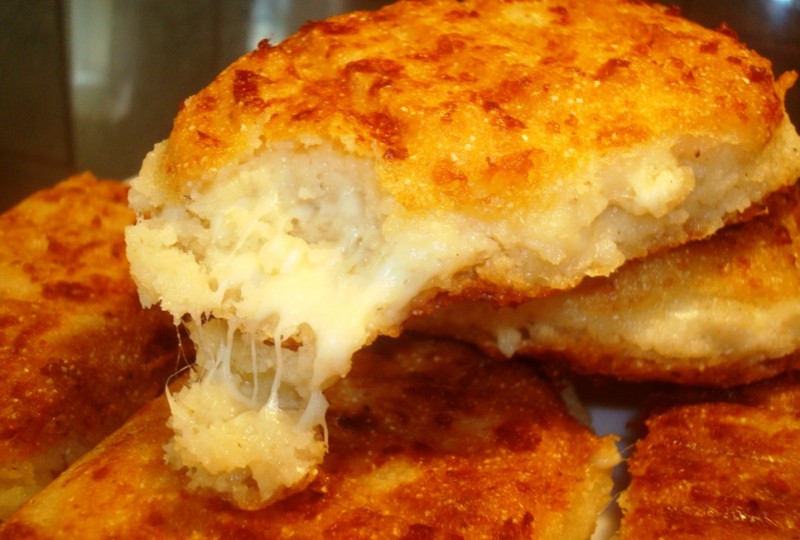 Georgian Cheese and Yogurt
Matsoni (Georgian yogurt)
A rather sour fresh yogurt that usually shows up topless (well, without a lid) at the table.
Trial and error usually works to suit your taste. You can eat it savory served with warm
meat, vegetables, or khachapuri. For a sweeter version at breakfast-time or for dessert,
you can blend matsoni with fresh honey or fruit.
After matsoni straight from the farm, store-bought yogurt will never taste the
same. Matsoni is a culinary and cultural Georgian staple. Since it's made from boiled
fresh milk and a bacterial starter, matsoni is certain to have medicinal qualities.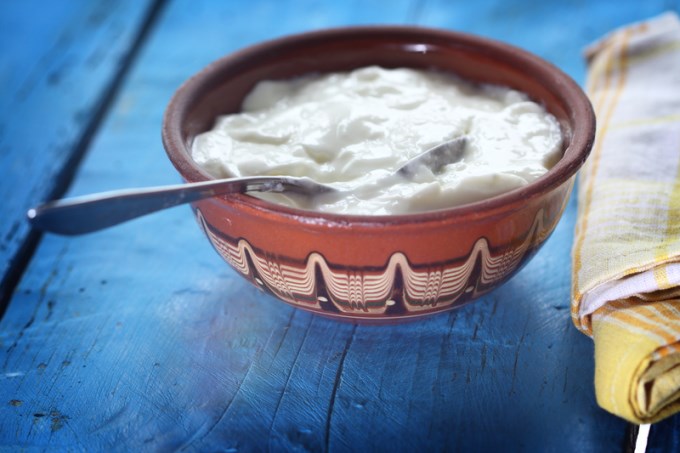 Sulguni (Georgian cheese)
As far as one can tell, sulguni is the national cheese of the Republic of Georgia. A
salted, water-soaked cheese that features a stringy shell and moist middle, sulguni is
typically eaten by itself or with a round of tonis puri bread and a plateful of herbs and
tomatoes.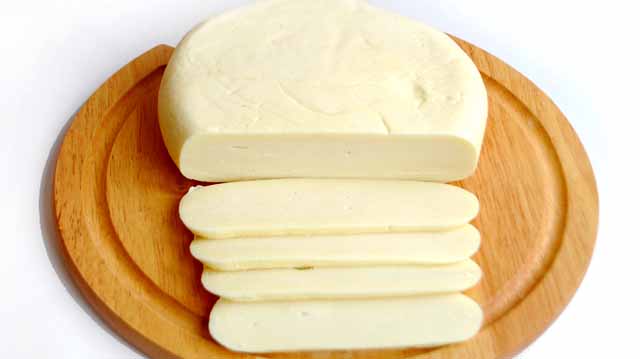 Georgian Condiments, Pastes and Sauces
Adjika (Chili Paste)
Adjika, a spice paste condiment, is best compared to spicy Indian pickle-like paste.
The regular way to serve adjika is with a cucumber and tomato salad.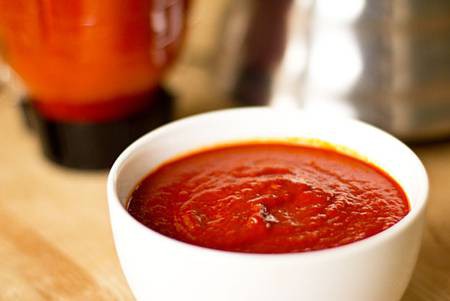 Tkemali Sauce (Sour Plum Sauce)
Taken in small doses alongside cheese, khachapuri, or meat, this sour plum sauce is
said to be a cleanser. Whenever one has a meal with a family, out comes the canning jar
of tkemali sauce.
Pkhali
A paste made from spinach, walnuts, and garlic. Excellent with tonis puri or khachapuri.
Typically served as an appetizer, or mezze-style with other small, flavorful dishes, the
fresh, local flavor of pkhali made it another of our favorites.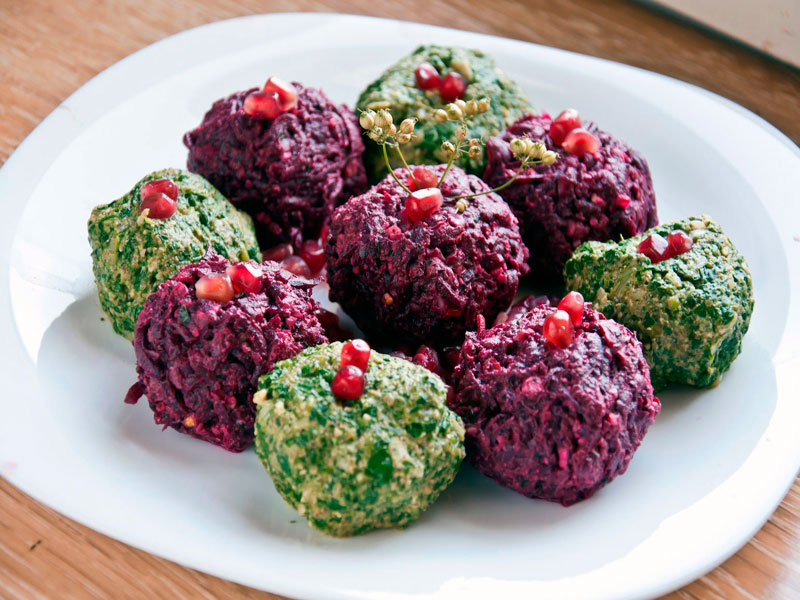 Svaneti salt
So-called Svaneti salt serves as a perfect complement to vegetables, cheese or salad.
Made from salt, dried garlic, chili pepper and a blend of various spices and herbs like
fenugreek and coriander, Svaneti salt and its aroma will have you thinking you're
inching closer to Persia or India.
Georgian Sweets
Tatara or Pelamushi
Confection made from boiled, pressed grape extract. Can be eaten as a sort of pudding
as dessert. The liquid is the sweet coating used to make churchkhela.
Churchkhela
Brown rubbery truncheons made from strings of walnuts dipped in tatara and dried.
Sometimes referred to as "Georgian Snickers." Don't eat the string!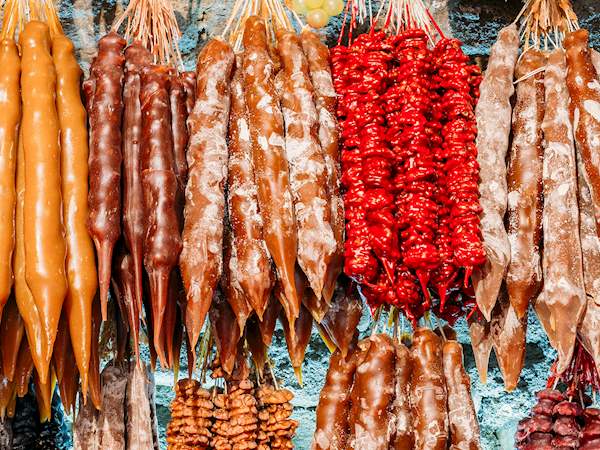 ---